The name for asparagus — a member of the lily family — comes from the Greek word meaning "shoot" or "sprout." Now widely cultivated throughout the world, this regal vegetable is believed to have originated 2,000 years ago in the eastern Mediterranean region, where it was prized for its unique texture and alleged medicinal and aphrodisiacal qualities.
Asparagus spears grow from a crown planted in sandy soils and, under ideal conditions, can grow 10 inches in a 24-hour period. The most common types are green, but you might see two others in supermarkets and restaurants: white, which is more delicate and difficult to harvest, and purple, which is smaller and fruitier.
This giant veggie is one of the most nutritionally well-balanced vegetables — high in folic acid and a good source of potassium, fiber, thiamin, and vitamins A, B6, and C. A 5-ounce serving provides 60% of the RDA for folic acid and is low in calories. You can enjoy this veggie raw or with minimal preparation.
How to Select and Store Asparagus
When choosing your green asparagus at the grocery store or farmers market, look for spears with a rich green color almost the entire length of the stalk. The spears should be firm, though keep in mind that the thicker ones are usually more tender than slimmer ones. You'll want to choose spears with compact tips.
Ideally, the spears will be about ½-inch thick at their thickest. Steer clear of those that are limp, wilted, or have a smell. Many spears will be white and woody at the base, which is fine because you'll trim that part off, but you don't want spears that are pale and woody throughout — they'll be too tough.
Keep your asparagus whole and store it in the refrigerator. To maintain freshness and moisture, wrap the ends in a damp paper towel, then place them in a plastic bag and store them upright in the fridge, if possible. It's best to enjoy them soon — within four days of purchase is the general recommendation.
Why does asparagus make urine smell?
According to Smithsonian magazine, asparagus is the only food to contain the chemical asparagusic acid. When this aptly named chemical is digested, it breaks down into sulfur-containing compounds, which have a strong, unpleasant scent. They are also volatile, which means that they can vaporize and enter the air and your nose. Asparaguisic acid is not volatile, so asparagus itself doesn't smell.
What's weirder than a veggie causing stinky pee? The fact that not everyone can smell it. Scientists aren't entirely sure why this is. Most evidence seems to suggest that not everyone can smell the odor, though some scientists think that not everyone produces it.
Don't wash the spears until you're about to eat or cook them. Otherwise, they may harbor bacteria while being stored in the refrigerator.
Print Recipe
Garlic Roasted Cheesy Sheet Pan Asparagus
An easy side dish, this roasted garlic asparagus is cooked on a single sheet pan with a cheesy topping.
Ingredients
1

lb

fresh asparagus

ends snapped

3

tbsp

olive oil

1½

tbsp

garlic

minced

salt & pepper

to taste

1

cup

mozzarella cheese

shredded

¼

cup

Parmesan cheese

shredded
Instructions
Spread the asparagus, evenly, in a single layer on a large sheet pan.

In a small bowl, whisk together the oil and garlic. Pour the mixture over the asparagus, and toss until coated. Spread back out into a single layer.

Liberally salt and pepper the asparagus.

Bake at 425° for 15 minutes or until asparagus is tender but not wilted.

Carefully remove the pan from the oven. Sprinkle the cheeses evenly over the asparagus. Return to over baking an extra two minutes or until the cheese is completely melted.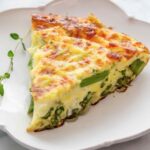 Print Recipe
Asparagus Frittata
Eggs and asparagus are natural flavour companions, and this quick and easy recipe ensures both shine. Ready in thirty minutes, asparagus frittata is perfect for a light meal like brunch or lunch meal prep. 
Ingredients
12

eggs

2

tbsp

sour cream or greek yogurt

½

tsp

each salt and freshly cracked pepper

1

tbsp

chives

chopped

½

cup

Parmesan cheese

shredded

2

tbsp

butter

½

cup

sweet onions or shallots

thinly sliced

1

lb

asparagus

ends trimmed and cut into 2" pieces
Instructions
Whisk eggs with sour cream, salt, pepper, and chives in a large bowl until smooth. Fold in the parmesan cheese and set aside.

Heat a 10" ovenproof skillet over medium high heat. Add the butter and melt until it foams. Add the shallots/onions and cook, stirring occasionally, until soft and the edges start to brown, 4-5 minutes.

Add asparagus, toss to coat in the fat, and sautee 3 minutes, stirring occasionally.

Pour the egg mixture into the skillet, then gently shake the skillet to evenly distribute. Continue cooking over medium heat until the edges are firm, 3 minutes.

Transfer the skillet to the oven. Bake until the the eggs are puffed but the center is just slightly soft (it will have a slight jiggle to it), 12-14 minutes.

Remove the skillet from the oven using oven mitts and place it on a cooling rack. Cool at least 5 minutes, or until the edges gently pull from the sides of the skillet.