The arrival of corn on the cob in our grocery stores is really the unofficial start of summer. But there's more to corn than just the version on the cob.
The four main categories of corn are field, popcorn, sweet and ornamental. Corn is very versatile since the entire corn plant can be used. You can use the husks for making tamales, the silk to create a medicinal tea, the kernels for food and the stalks for livestock feed. You can find corn in products like tortillas, tortilla chips, cornmeal and corn oil. Miniature ears of corn, known as baby corn, can be used in appetizers, soups, chowders, stews and stir fry dishes. Baby corn is particularly popular in Thai and Chinese cooking.
Corn is typically yellow, but comes in a variety of other colors such as red, orange, blue, white, cream, pink, purple, brown and black.
HEALTH BENEFITS OF CORN
Corn has several health benefits. Because of the high fiber content, it can aid with digestion. It also contains valuable B vitamins, which are important to your overall health. Corn also provides our bodies with essential minerals such as zinc, magnesium, copper, iron and manganese. Corn is a good source of the antioxidants carotenoids, lutein and zeaxanthin, which promote eye health. Since corn is considered a starchy vegetable, people with diabetes need to keep in mind that a ½ cup of corn (or a small ear of corn) contains 15 grams of carbohydrate and counts as one carbohydrate food choice.
CHOOSING AND PREPARING CORN
Corn can be roasted, boiled, broiled, steamed, grilled or microwaved. You can add it to stews, casseroles, salads or salsa. Try adding corn kernels to cornbread batter for enhanced texture and flavor.
Fresh corn on the cob is best if cooked as soon as possible after picking, but that's not always practical. Once you have brought the corn home, place the ears in your refrigerator as soon as possible. Cold temperatures slow down the chemical reaction that causes corn to lose its sweetness. Leave the husk on, and let the corn sit in the refrigerator uncovered instead of wrapped up tightly in a plastic bag. It's best if cooked within three days. Once cooked, corn will stay good for three to five days in the refrigerator and 10 to 12 months in the freezer.
CORN CHALLENGE
If you're accustomed to boiling your sweet corn, try a new cooking method. Sweet corn on the grill can be a delicious addition to your meal.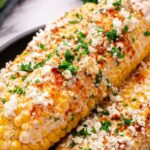 Print Recipe
Mexican Street Corn
Ingredients
4

corn on the cob

shucked

⅓

cup

sour cream

⅓

cup

mayonnaise

1

clove

garlic

crushed

Zest of one lime

½

tsp

chili powder

½

tsp

paprika

can be mild or smoky

¼

cup

cilantro

chopped

½

cup

cotija cheese

can substitute queso fresco or feta
Instructions
Combine sour cream, mayonnaise, garlic, lime zest, chili powder, paprika and half of the chopped cilantro.

Grill sweet corn without the husks on a grill over high heat. Turn regularly for about 10 minutes until they begin to char.

Take corn off the grill and brush with the crema dressing.

Sprinkle with cheese, lime juice and the remaining cilantro. Serve immediately.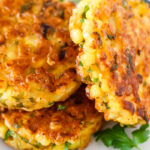 Print Recipe
Cheesy Corn Fritters
Crispy on the edges, soft in the middle and so delicious, these little cheesy cakes are so easy to put together and make a great side dish. Feel free to use canned or frozen corn, but these are especially good with fresh corn in the summer.
Ingredients
2

cups

corn

fresh, frozen or canned

¼

cup

cornmeal

¼

cup

all purpose flour

1

tsp

smoked paprika

1

egg

1

green onion

chopped

½

cup

parmesan cheese

grated

1

handful

cilantro

chopped

1

tbsp

lime juice

salt and freshly ground pepper

to taste

1

tbsp

oil

add more if needed

sour cream

for garnish
Instructions
Mix the corn, cornmeal, flour, paprika, egg, parmesan, green onion, cilantro, lime juice in a large bowl. Add some water if the mixture is too dry.

Heat 1 tablespoon oil in a pan. Spoon the corn mixture into the pan to form patties and cook until golden brown on both sides, about 4 minutes per side.

Garnish with a dollop of sour cream. Enjoy!