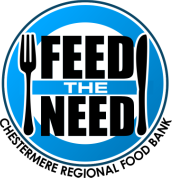 "We rise by lifting others"
We all need help from time to time and there is no shame in reaching out.
The food bank provides both perishable and non-perishable food items designed to last a family for 2 to 3 weeks. You can access this service a maximum of 6 times per year.
Follow the steps below to access food resources available in Chestermere and surrounding areas.
Step 1 – Contact the Chestermere Regional Food Bank
Visit – 105, 100 Rainbow Road, Chestermere – Monday to Friday 10 am to 12 pm
Phone – 403-273-0777
Email – crfb@shaw.ca
Be prepared: The CRFB team will ask some personal questions like contact information, household members, income, basic expenses, and ID (driver's license, health card, passport, birth certificate, PR Card or Immigration paperwork) during intake.
The CRFB determines need based on income and current situation.
Exploration: We work with you to generate options of resources that might be helpful in your situation like, budgeting, subsidies, and referrals to local agencies.
Step 2 – Book a Hamper Appointment
By appointment only.
Hamper pick-ups are scheduled for the next working day by a CRFB staff person.
Food Bank appointments are available for:
| Monday | Tuesday  | Wednesday | Thursday | Friday |
| --- | --- | --- | --- | --- |
| 10 am – 12:30 pm | 10 am – 12:30 pm | 1 pm – 4 pm | 10 am – 12:30 pm | no hamper pick up |
If you are experiencing a crisis and in need of an emergency food hamper, call the Community Resource Centre at (403) 207-7079.
Step 3 – Hamper Pick-Up
The CRFB staff person will confirm your pick-up appointment with you.
Location: Chestermere Regional Food Bank, 105 – 100 Rainbow Road, Chestermere.
When you come to pick-up your hamper, please bring one piece of ID for each member of the household.
You will need to bring boxes or bags to pick up your food.
Chestermere Regional Food Bank Office Hours
| Monday | Tuesday  | Wednesday | Thursday | Friday |
| --- | --- | --- | --- | --- |
| 10 am – 12 pm | 10 am – 12 pm | 10 am – 12 pm | 10 am – 12 pm | 10 am – 12 pm |