Carrots are root vegetables that were first grown in Afghanistan around 900 AD. Orange may be their best-known color, but they also come in other hues, including purple, yellow, red, and white. Early carrots were purple or yellow. Orange carrots were developed in Central Europe around the 15th or 16th century.
This popular and versatile veggie may taste slightly different depending on the color, size, and where it's grown. The sugar in carrots gives them a slightly sweet flavor, but they also can taste earthy or bitter.
Carrot Nutrition
One serving of carrots is a half cup. One serving has:
25 calories
6 grams of carbohydrates
2 grams of fiber
3 grams of sugar
0.5 grams of protein
Carrots are a great source of important vitamins and minerals. A half-cup can give you up to:
73% of your daily requirement of vitamins
9% of your daily vitamin K
8% of your daily potassium and fiber
5% of your daily vitamin C
2% of your daily calcium and iron
Health Benefits of Carrots
Carrots have a wealth of antioxidants and offer many health benefits.
They're good for your eyes. This is probably the best-known carrot superpower. They're rich in beta-carotene, a compound your body changes into vitamin A, which helps keep your eyes healthy. And beta-carotene helps protect your eyes from the sun and lowers your chances of cataracts and other eye problems.
They can lower your risk of cancer. Antioxidants have been proven to fight off harmful free radicals in your body, and that can make you less likely to have cancer. The two main types of antioxidants in carrots are carotenoids and anthocyanins. Carotenoids give carrots their orange and yellow colors, while anthocyanins are responsible for red and purple coloring.
They help your heart. First, all those antioxidants are also good for your heart. Second, the potassium in carrots can help keep your blood pressure in check. And third, they have fiber, which can help you stay at a healthy weight and lower your chances of heart disease.
They boost your immune system. The vitamin C in carrots helps your body build antibodies that defend your immune system. Vitamin C also helps your body take in and use iron and prevent infections.
They can help with constipation. If you're having trouble going to the bathroom, try munching on some raw carrots. With their high fiber content, they can help ease constipation and keep you regular.
They can help control diabetes. People with diabetes are advised to load up on non-starchy vegetables, including carrots. The fiber in carrots can help keep blood sugar levels under control. And they're loaded with vitamin A and beta-carotene, which there's evidence to suggest can lower your diabetes risk..
They can strengthen your bones. Carrots have calcium and vitamin K, both of which are important for bone health.
Carrots are versatile! The can be eaten raw with hummus or dip, turned into a mouthwatering soup or grated into muffins or cake.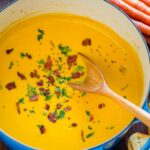 Print Recipe
Creamy Carrot Soup
Creamy Carrot Soup has surprisingly simple ingredients but tastes gourmet. This is a 30-minute recipe that comes together in one pot.
Ingredients
6

strips

bacon

chopped

1

large

yellow onion

diced

½

cup

celery

diced

8

large

carrots

peeled and sliced into ½ inch rounds

2

cloves

garlic

minced

2

tsp

salt

or to taste

fresh cracked pepper

4

cups

chicken stock

½

cup

milk

½

cup

heavy cream

2

tbsp

parsley for garnish

optional
Instructions
Cook bacon in a large pot until brown and crisp. Remove with a slotted spoon and set aside.

In the same pot with the rendered bacon fat add diced onion, celery and sliced carrots. Cook until onions soften (do not brown). Add minced garlic, salt and pepper and cook for another minute.

Add the chicken stock and bring to a simmer. Partially cover and cook 20 – 25 minutes or until carrots have softened.

Puree soup in a blender in batches or use an immersion blender.

Return soup to pot and stir in heavy cream and milk. Season with salt and pepper if necessary.

To serve: Spoon into bowls and garnish with bacon and parsley.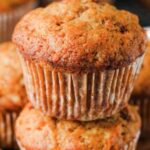 Print Recipe
Carrot Muffins
These carrot muffins are moist, flavorful, and full of warm spices.
Ingredients
2

cups

flour

2

tsp

baking soda

2

tsp

cinnamon

½

tsp

salt

1

cup

sugar

1

cup

vegetable oil

3

eggs

2

cups

raw carrots

shredded

1

apple

peeled and shredded

½

cup

raisins

optional
Instructions
Preheat oven to 350°. Grease or line muffin tins.

In a large bowl, whisk together flour, baking soda, cinnamon and salt.

Whisk sugar, oil and eggs in a separate bowl.

Stir egg mixture into dry ingredients, just until combined.

Gently fold in carrots, apples and raisins.

Divide the mixture into prepared muffin tins.

Bake 20 – 22 minutes or until tops are golden and a toothpick comes out clean.
Notes
Keep muffins in a zippered bag or airtight container at room temperature for up to 5 days.
Roasted Garlic Parmesan Carrots
An easy, family favorite roasted carrots recipe tossed with the most flavorful garlicky and buttery parmesan cheese coating.
Ingredients
2

lbs

carrots

peeled and cut diagonally into 3" pieces

4

tbsp

butter

4

cloves

garlic

¼

tsp

salt

¼

tsp

fresh ground pepper

⅓

cup

parmesan cheese

grated

¼

cup

fresh parsley

chopped
Instructions
Line a rimmed baking sheet with foil or parchment paper and set aside.

Place prepared carrots into a large mixing bowl and set aside.

Melt butter in the microwave. Once melted add minced garlic, salt and pepper and whisk until combined.

Pour the butter mixture over the carrots and toss to coat. Add grated parmesan cheese and mix until combined.

Transfer carrots to prepared baking sheet and bake for 20 to 25 minutes, or until tender mixing half way through.

Remove from oven. Adjust seasonings, sprinkle with parsley (optional) and serve.