A tomato is a nutrient-dense superfood that offers benefit to a range of bodily systems. Its nutritional content supports healthful skin, weight loss, and heart health.
Despite the popularity of tomatoes, it was only 200 years ago that they were thought to be poisonous in the United States (U.S.) This is likely to be because the plant belongs to the toxic nightshade family.
Tomatoes are now the fourth most popular fresh-market vegetable behind potatoes, lettuce, and onions. This article will examine their powerful health benefits, nutritional content, ways to include more tomatoes in the diet, and the risks of tomato consumption.
Fast facts on tomatoes
Including tomatoes in the diet can help protect against cancer, maintain healthy blood pressure, and reduce blood glucose in people with diabetes.
Tomatoes contain key carotenoids such as lutein and lycopene. These can protect the eye against light-induced damage.
Eat more tomatoes by adding them to wraps or sandwiches, sauces, or salsas. Alternatively, eat them cooked or stewed, as these preparation methods can boost the availability of key nutrients.
Tomatoes are in the top ten fruits and vegetables for containing levels of pesticide residue. Wash tomatoes before eating.
Tomatoes are an intensely nutritious plant food.
The benefits of consuming different types of fruit and vegetable are impressive, and tomatoes are no different. As the proportion of plant foods in the diet increases, the risk of developing heart disease, diabetes, and cancer decreases.
There are different types and sizes of tomato, and they can be prepared in different ways. These include cherry tomatoes, stewed tomatoes, raw tomatoes, soups, juices, and purees.
The health benefits can vary between types. For example, cherry tomatoes have higher beta-carotene content than regular tomatoes.
High fruit and vegetable intake is also linked to healthy skin and hair, increased energy, and lower weight. Increasing the consumption of fruits and vegetables significantly decreases the risk of obesity and overall mortality.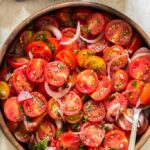 Print Recipe
Summer Cherry Tomato Salad
This fresh tomato salad is simply the best and easiest summer salad you'll ever make! This salad is ideal to be served with anything from the grill! It tastes absolutely delicious after it has been marinated for an hour. Best served chilled!
Ingredients
2

pints

fresh cherry tomatoes

halved

1

red onion

thinly sliced

1

tbsp

red wine vinegar

3

tbsp

olive oil

2

tbsp

fresh basil

chopped

salt and pepper

to taste
Instructions
Place chopped tomatoes and sliced red onions in a salad bowl.

Drizzle with olive oil and red wine vinegar.

Season with salt and pepper.

Sprinkle with fresh basil and gently toss everything together.

Let sit at room temperature for an hour before serving.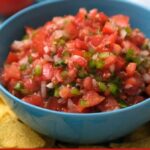 Print Recipe
Fresh Tomato Salsa
Fresh Tomato Salsa made in a food processor with roma tomatoes, onion and green bell peppers. This homemade salsa recipe is ready in minutes. Serve with tortilla chips or your next Mexican meal!
Ingredients
1½

lbs

roma tomatoes

chopped

1

small green pepper

finely diced

1

small onion

finely diced

1

tbsp

lime juice

1

tbsp

cilantro

finely chopped

salt and pepper to taste

⅓

tsp

red pepper flakes

optional
Instructions
Place your tomatoes into a food processor and pulse 6-8 times, or until they reach a good salsa consistency. Depending on the size of your food processor you might have to do this in 2 batches. Transfer to a bowl once processed.

Add the chopped up green pepper and onion into the bowl with the tomatoes.

Add cilantro, lime juice, salt, pepper and red pepper flakes into the bowl and mix until everything is combined.

Serve with tortilla chips or on top of your favorite Mexican meal!