Peppers have a lot going for them. They're low in calories and are loaded with good nutrition. All varieties are excellent sources of vitamins A and C, potassium, folic acid, and fibre. Plus, the spicy ones liven up bland food, making it more satisfying. Peppers come in all sizes and colors. Some pack heat. Others are sweet. You can get them fresh, frozen, dried, or canned.
You've seen bell peppers — green, orange, yellow, and red — in the grocery store or in a salad bar. Red peppers pack the most nutrition, because they've been on the vine longest. Green peppers are harvested earlier, before they have a chance to turn yellow, orange, and then red. Compared to green bell peppers, the red ones have almost 11 times more beta-carotene and 1.5 times more vitamin C.
The heat of a pepper is measured using Scoville units: The scale ranges from 0 (as in bell peppers) all the way to 3,000,000 (as in the spiciest chile in the world, the Pepper X). Most dried chiles you will encounter fall somewhere in the middle but can still be pretty hot! The Scoville scale is a good base for knowing how hot your chiles are, but know that the heat can vary according to climate and vegetation. The relatively mild poblano weighs in at about 1,500 Scoville heat units (SHU), while the super-hot habañero packs a whopping 250,000 SHUs (or more).
If you want the flavor without the mouth-scorching fire, remove the seeds and interior ribs from a chile before cooking it. It's also a good idea to have dairy products, such as milk or yogurt, on hand—they contain casein, which helps neutralize capsaicin, the chemical that gives chiles their heat. And remember: Always protect your skin by wearing gloves and never touch your eyes when handling hot peppers.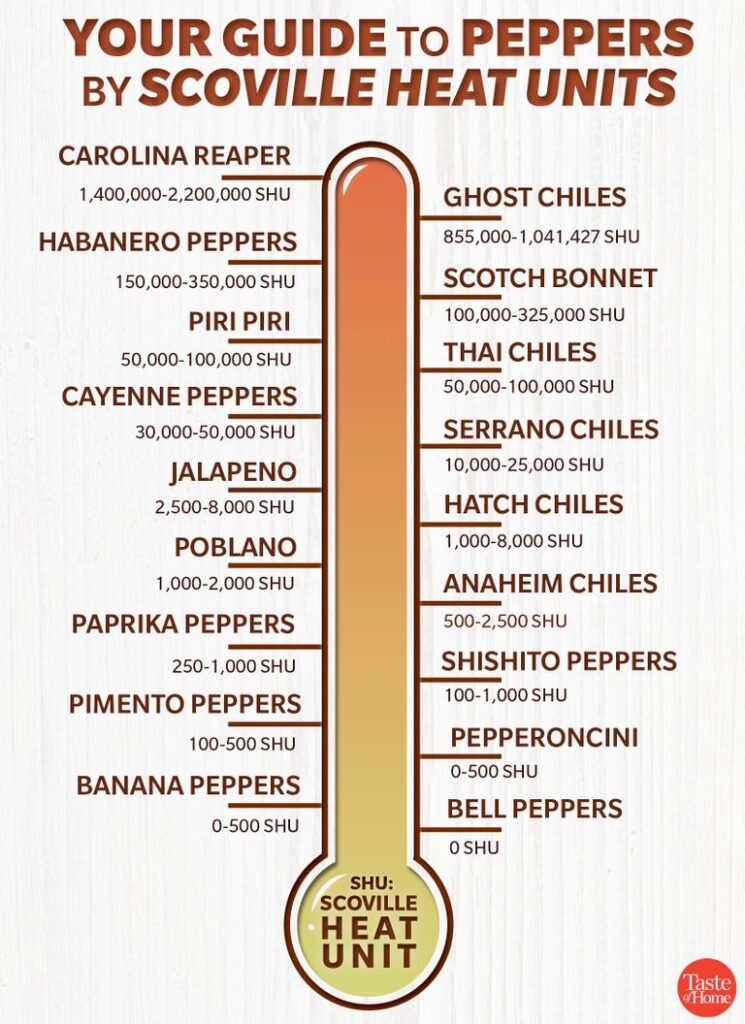 Top 5 Most Popular Peppers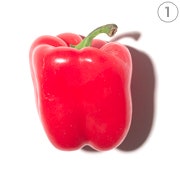 Bell Pepper
Alternate Names: Green pepper, red pepper, sweet bell pepper, capsicum
Characteristics: Relatively large in size, the bell-shaped pepper in its immature state is green with a slightly bitter flavor. As it matures, it turns bright red and becomes sweeter. You can also find yellow, orange, white, pink, and even purple varieties. With their high water content, bell peppers will add moisture to any dish. They're also great for adding color.
Scoville heat units: 0
Poblano Pepper
Alternate Name: Ancho
Characteristics: Somewhat large and heart-shaped, the poblano is common in Mexican dishes such as chiles rellenos. Are poblano peppers spicy? Yes, but only mildly spicy. At maturity, the poblano turns dark red-brown and can be dried, at which point it's referred to as an ancho or mulato. Anchos have a rich, raisin-like sweetness. The high yield of flesh to skin makes anchos great for sauces.
Scoville heat units: 1,000 to 2,000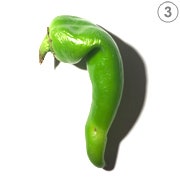 Anaheim Pepper
Alternate Names: California green chile, chile verde, New Mexican chile
Characteristics: This long pepper is relatively mild and very versatile. When mature, the Anaheim turns deep red and are referred to a chile Colorado or California red chile. Anaheims are popular in salsas and dishes from the American Southwest.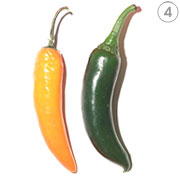 Serrano Pepper
Characteristics: Just a couple of inches long, with a tapered end, this small pepper packs quite a bit of heat. Beware: The smaller the pepper, the hotter it is. When ripe, serranos are red or yellowish orange—they can be cooked in both their ripe and unripe states. Serranos are common in Mexican and Thai cooking.
Scoville heat units: 6,000 to 23,000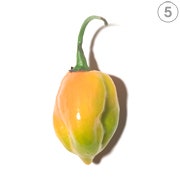 Habañero Pepper
Characteristics: Small and bulbous, this chile, in the same family as the Scotch bonnet, is one of the hottest on the Scoville scale. If you can get past the heat, habañeros also have a fruity flavor. They're popular on Mexico's Yucatan Peninsula and in the Caribbean, where they're used to make hot sauces.
Scoville heat units: 150,000 to 350,000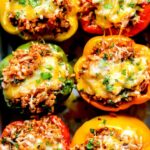 Print Recipe
Mexican Stuffed Peppers
With ground beef, melty cheese, rice, and jarred salsa cooked in one pot, this Mexican stuffed peppers recipe is like a healthy taco in a bell pepper shell.
Ingredients
6

bell peppers

stems and tops removed then seeded

1

lb

ground beef

1

medium onion

chopped

24

oz

salsa

your favourite type

1

tsp

chili powder

1

tsp

cumin

1

cup

long grain white rice

2

cups

water

½

tsp

kosher salt

1

cup

cheddar cheese

shredded

cilantro

optional

sour cream

optional
Instructions
Preheat the oven to 350° F

Brown the ground beef in a large fry pan over medium high heat until cooked almost through. Add the onion cook until softened. Stir in the jarred salsa, chile powder, and cumin.

Add the white rice and water, season with kosher salt and bring to a boil, then reduce to medium low. Cover and cook for 20 minutes, stirring occasionally, until the rice is tender, adding more water if necessary.

While the meat and rice are cooking, cut off the tops of the peppers, spoon out the ribs and seeds, then rinse. Lightly sprinkle the inside of the peppers with kosher salt and place in a microwave safe dish with 1/4 cup water. Cover with plastic wrap and microwave for 5 minutes or until they soften but still hold their shape.

Transfer the peppers to a 3 quart baking dish. Fill the peppers with the hot meat and rice mixture.

Bake for 18-20 minutes or until peppers are tender. Sprinkle with cheese and heat for an additional minute or two until the cheese has melted. Garnish with the chopped cilantro and sour cream if you'd like, and serve.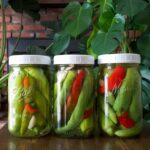 Print Recipe
Peter Piper's Pickled Peppers
Enjoy this recipe for quick and easy refrigerator pickled peppers, using any type of pepper you want to pickle! No canning necessary! These pickled peppers are delectably tangy, just a tad sweet, and as spicy as you'd like to make them.
Ingredients
peppers

any type

1

cup

water

1

cup

white vinegar

1

tbsp

salt

sea, kosher or pickling

1

tbsp

sugar

fresh dill

a few sprigs

2

cloves

fresh garlic

lightly crushed

peppercorns

one dozen per jar

celery seed

pinch
Instructions
Add the fresh dill, cloves of crushed garlic, and peppercorns to the bottom of a quart jar.

Prepare the brine by adding the vinegar, water, sugar, and salt in a saucepan on the stovetop. Heat until the sugar and salt dissolve, but then allow the brine to cool slightly before adding to peppers.

Wash the peppers. Poke each pepper with a sharp knife in a couple places to allow the brine to penetrate the peppers.

Carefully pack the peppers into the jar, trying to fit as many as possible inside.

Pour the brine over the top of the peppers until they are completely submerged. Top off with more brine or vinegar if settling occurs.

Add a lid to the jar and refrigerate for 2 weeks before enjoying. Use within 6 months for best quality and flavour.