Winter is the best time of year to eat rutabaga — but why, you might ask, would you want to? Startlingly large and sort of dumpy-looking, with a purple top and beige bottom, rutabagas may not look very alluring, but there's a lot more to this winter vegetable than meets the eye.
Underneath its woody-looking exterior, rutabaga's butter-yellow flesh is sweet and earthy. Rutabagas are the result of some promiscuous turnips crossing with wild cabbages in the 1600s, and while they contain the genes of both veggies, they're considered a part of the cruciferous family of vegetables (cousins include broccoli and Brussels sprouts) and pack similar health benefits.
Just one cup of rutabaga contains approximately 50% of your daily value of vitamin C. They're also rich in fiber, vitamin B6, potassium, and magnesium — and low in calories. An entire medium-sized rutabaga has only 145.
If you've never cooked with it before, the first thing you need to know is that rutabagas from the grocery store are usually sold coated in paraffin wax to keep them from drying out in storage. You'll definitely want to remove it before cooking with them. Peeling a waxed rutabaga can feel like trying to peel a greased bowling ball, so to make it easier, first slice off the stem and root ends with a chef's knife to create a stable base. Then stand the root upright and remove the skin with the knife, working from top-to-bottom.
Once that waxed exterior is removed, you can start cooking away!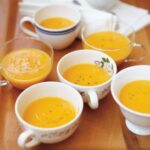 Print Recipe
Cream of Carrot and Rutabaga Soup with Maple Syrup
Ingredients
4

cups

1 litre carrots, peeled and sliced

4

cups

1 litre rutabaga, peeled and cubed

2

onions

chopped

3

tablespoons

45 ml butter

8

cups

2 litres chicken broth

2

russet potatoes

peeled and cubed

3

tablespoons

45 ml maple syrup

1/4

cup

60 ml 35% cream

Salt and pepper
Instructions
In a saucepan, cook the carrots, rutabaga, and onions in the butter for about 5 minutes, without browning.

Add the broth, potatoes, and maple syrup. Bring to a boil. Cover and simmer for about 25 minutes or until the vegetables are tender.

In a blender, purée the soup until smooth. Add the cream. Season with salt and pepper. Serve hot.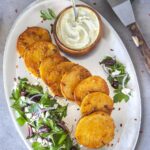 Print Recipe
Roasted Rutabaga Steaks
Crispy, tender roasted rutabaga steaks are a breeze to prepare. Enjoy as an appetizer, a side or a vegetarian main dish.
Ingredients
3

rutabaga heads

about 3.5 to 4 lbs total weight

2

tbsp

lime juice

2

tsp

brown sugar

1

tsp

coarse salt

4

garlic cloves

minced

3

tsp

yellow curry powder

1

tsp

onion powder

6

tbsp

extra virgin olive oil

1/2

cup

sour cream
Instructions
Preheat oven to 400 F. Line a baking sheet with parchment paper and have more parchment paper and aluminum foil handy.

Mix a marinade – in a bowl first whisk the brown sugar and salt in lime juice until completely dissolved. Add the minced garlic, curry powder, onion powder and olive oil and mix together. Reserve 1.5 to 2 tbsp of the marinade for later.

Peel the rutabaga heads and cut crosswise into 'steaks', about 1 inch thick each. Coat each steak in marinade and arrange onto the prepared baking sheet. Cover with another parchment paper sheet, then tightly cover with aluminum foil.

Roast for 1 hour. Remove the foil and top parchment paper, brush the steaks with a bit of the reserved marinade and then broil for a couple of minutes, until nicely golden and crispy on top. Watch the steaks closely during this step.

Combine the rest of the reserved marinade with the sour cream to make a dip. Serve immediately.