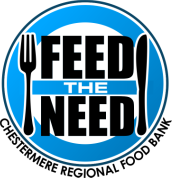 The Chestermere Regional Food Bank supports the following programs in our community.
After The Bell
FOOD BANKS CANADA launched this program in 2015 and because of our awareness through the school Child Development Advisors, we have signed on to participate this year. This program is designed to provide young people food to fill the gaps when other food supports such as school breakfast or lunch programs aren't available in July and August. FOOD BANKS CANADA will send us enough packs to last through 8 weeks in the summer and may contain granola bars, applesauce, fruit cups, oatmeal, hummus and canned protein. They will also provide funding to purchase fresh food to add to each pack.
Before and After Care

Has made it possible for us to provide snacks for this program through requests from Child Care Workers. Seems that children are always hungry!
Bread & Extras
Clients can drop by on Wednesdays between 4 pm and 7 pm and Fridays between 11 am and 1 pm to pick up bread and foods we have in excess – no questions asked. – CANCELLED UNTIL FURTHER NOTICE
Breakfast Program
A healthy breakfast is important for learning and we are committed to providing assistance with this school program. CRFB provides nutritious meals to children identified by Child Development Advisors and Teachers.
Community Garden
We have been involved with this project for several years through the Community Resource Centre. Volunteers prepare, plant, maintain and harvest several gardens throughout the growing season. Once harvested, we are able to offer fresh vegetables to clients.
Good Food Box
The Good Food Box makes top-quality, fresh food available in a way that does not stigmatize people, fosters community development, and promotes healthy eating. The Good Food Box (GFB) is a program under the Community Kitchen Program of Calgary whereby you can purchase fresh fruits and vegetables at a very low cost. The Food Bank will be the new depot in Chestermere. (coming September 2020)
Hampers
We provide both perishable and non-perishable foods to an average of 8 families per week. This service is by appointment only. Hampers are designed to see a family through 2 to 3 weeks. Clients can access this program 6 times per year. Referrals are made through the Community Resource Centre
Meals on Wheels
The Chestermere Regional Food Bank will deliver nutritious and affordable meals to your door providing you with meals for up to seven days a week.  These meals are prepared by Meals on Wheels Calgary then picked up and delivered by Chestermere Food Bank volunteers.  All meals are heart healthy and diabetic friendly.  Select from the variety of meals, each consisting of an entrée, a starch and a vegetable.  A minimum of 5 meals per order is required.  Meals must be ordered on Friday for delivery the following Wednesday between 12:30 and 2:00 pm. Each meal costs $5.75 and must be paid by cash or cheque at the time of delivery. No referral is needed to sign up; your finances and age are not qualifying factors. Click Order meals for yourself or a loved one, by calling 403 273-0777.
Snack Attack
For a variety of reasons, many children go to school without adequate nutrition. We provide funding and non-perishable snacks to local schools through requests from Child Development Advisors.
For more information about any of our programs or services, please complete the form below.