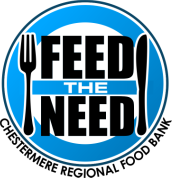 Food donations are accepted year round in our bins located at Safeway, No Frills, City Hall, the Chestermere Recreation Centre, Sylvan Learning Centre, Chestermere Veterinary Clinic and the Whitecappers.
Cash donations are accepted at the Chestermere Food Bank office or can be made online through Canada Helps
If you are a member or leader of a group, organization or business in Chestermere and area and want to organize a fundraiser, food drive or promotion/special for your business please drop us a line
Donate A Car Canada accepts Vehicle Donations for Chestermere Regional Food Bank Foundation.  We provide free towing in many areas across Canada, or you can drop off your vehicle to maximize your donation. When you Donate your RV, boat, motorcycle or other vehicle to Chestermere Regional Food Bank Foundation through Donate A Car Canada, it will either be recycled or sold at auction depending on its condition, age and location. Donate A Car Canada will look after all the details to make it easy for you to support the Food Bank. After your Vehicle Donation is complete, Chestermere Regional Food Bank Foundation will send you a tax receipt within 45 days!