Bison are one of over 100 species of hoofed mammals belonging to the Bovidae family, which also includes cattle. While often grouped with buffalo, their anatomical features slightly differ.
Historically, bison has been the second most popular type of red meat, with beef being number one. Today, the demand for bison meat is growing due to increased marketing efforts, its widespread availability, and favorable nutritional profile.
In terms of nutrient content, bison packs a good amount of several essential nutrients, including protein, iron, zinc, selenium, and B vitamins.
A serving of bison cooked from a raw, 113-gram (4-ounce) portion provides:
Calories: 124
Protein: 17 grams
Fat: 6 grams
Saturated fat: 2.5 grams
Carbs: less than 1 gram
Iron: 13% of the Daily Value (DV)
Selenium: 31% of the DV
Vitamin B12: 68% of the DV
Zinc: 35% of the DV
Vitamin B6: 19% of the DV
Niacin (vitamin B3): 28% of the DV
When compared with many other meats, bison is low in fat and overall calories, with a raw 4-ounce (113-gram) serving providing 6 grams of fat and 124 calories.
By swapping out fattier cuts of meat for bison, you may be able to get the same amount of beneficial nutrients with fewer overall calories, which may be helpful for individuals looking to improve their body composition or lose weight.
In addition to bison's impressive nutritional profile and mild flavor, it can be versatile in the kitchen. You can use it as a substitute for other red meats in almost any recipe, including those for chilis, stews, and stir-fries.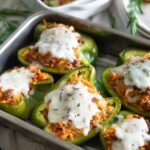 Print Recipe
Bison Stuffed Peppers
Lean protein packed ground bison stuffed peppers are a deliciously hearty meal with a cheesy topping.
Ingredients
½

cup

dry white rice

1

cup

water

12

oz

ground bison

1

tbsp

olive oil

4

medium bell peppers

1

large carrot

grated

1

small zucchini

grated

1

medium yellow onion

chopped

2

cloves

garlic

minced

1

tbsp

fresh rosemary

minced

8

oz

tomato sauce

½

cup

cheddar cheese

grated

salt & pepper

to taste
Instructions
Preheat oven to 400°F. Place peppers in a baking dish with about 1/2" water on the bottom. Bake peppers for 10 minutes then remove and set aside.

Combine rice and water to a small sauce pot and bring to a boil. Once boiling, reduce to a simmer, cover and cook until water is absorbed.

While rice cooks, place olive oil in a large skillet over medium-high heat. Add bison to the pan, breaking up into small pieces until browned. Drain most of the excess liquid from the skillet then return to heat.

Add the onions, carrot and zucchini and cook until softened, about 3-5 minutes.

Add the garlic, rosemary, salt and pepper to the skillet and cook until fragrant, about 1 minute.

Add cooked rice to the skillet, stir to combine then add the tomato sauce. Turn off heat and stir to thoroughly combine filling.

Spoon bison mixture into the halved peppers. Cover with foil and bake for 30 minutes.

Remove from the oven, sprinkle grated cheddar cheese on top of each pepper and return to oven for about 5 minutes until cheese is just melted.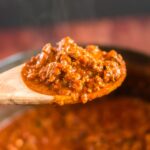 Print Recipe
Best Bison Chili
This bison chili is a crowd-pleasing favorite. And if you've never cooked with bison before, this recipe is the perfect place to start! It's easy to make with a simple ingredient list.
Ingredients
½

yellow onion

diced

3

cloves

garlic

minced

2

jalapenos

seeded and diced

1

green bell pepper

diced

2

lbs

ground bison

¼

tsp

black pepper

1

tbsp

chili powder

2

tsp

smoked paprika

2

tsp

dried thyme

1

tsp

cinnamon

1

cup

crushed tomatoes

1

cup

diced tomatoes

½

cup

beef stock
Instructions
Add the ground bison to the skillet and crumble it as it cooks. Add the seasonings. Continue cooking until bison is browned.

Add the diced tomatoes and crushed tomatoes to the skillet. Stir to combine. Pour in beef stock (a little at a time) until your chili reaches desired thickness.

Reduce heat to medium low and simmer chili for 1 hour. Allow to cool for 5 minutes before serving. Optional: garnish with cheese, sour cream, avocado, or red onion.