Butternut squash might be fall's most versatile and beloved vegetable. There are so many delicious ways to use this hard-shell squash, from soups and salads to lasagna and pizza.
What to look for when buying butternut squash? Choose one that feels heavy for its size. The skin should be smooth and uniform in color with a matte surface. A butternut squash with a fat neck and small bulb will have the smallest seed cavity and will yield the most meat. Avoid any with soft spots, bruises or mold.
This hardy squash can be kept for up to three months in a cool, dry place. But know that butternut squash will not last as long in a warm kitchen. For optimal storage keep them in the basement or another cooler place if possible. Do not refrigerate the whole squash but once cut, butternut squash should be wrapped tightly and refrigerated.
Does preparing this formidable vegetable scare you? Watch this quick video to learn the proper technique.
For vitamins and nutrients, one serving of butternut squash is packed with: More than 100% of your daily requirement of vitamin A. Nearly 40% of your daily requirement of vitamin C. About 15% of your daily requirement of magnesium.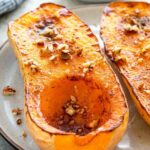 Print Recipe
Roasted Whole Butternut Squash
Roasting butternut squash whole is an easy way to enjoy this delicious winter squash. Simply slice in half, then bake until tender.
Ingredients
1

Butternut Squash

1 ½ to 2 pounds

2

tbsp

Olive Oil

Kosher Salt

for seasoning

Cracked Black Pepper

for seasoning

1

tbsp

Maple Syrup

¼

tsp

Ground Cinnamon

⅛

tsp

Nutmeg

2

tbsp

Pecans

chopped (optional)
Instructions
Set the oven rack to the center position and preheat to 400ºF (204ºC).

Place the squash on a sturdy cutting board. Use a sharp chef's knife to trim the stem and bottom of the squash.Starting at the larger side of the squash, carefully cut in half lengthwise, using small rocking motions.

Use a large spoon to remove the seeds. If desired, wash, separate and dry the seeds for roasting later.

Line a large baking sheet with foil. Grease the foil with 1 tablespoon of olive oil, use a paper towel to spread evenly.

Brush the flesh of the squash with 1 tablespoon of olive oil. Place the squash cut side down and evenly spaced on the baking sheet. Roast until a knife can easily pierce into the flesh, about 30 to 45 minutes depending on the squash's size.

Carefully turn the squash over with tongs and season with salt and pepper. Serve as is or proceed with maple glaze.

In a small bowl, combine maple syrup, cinnamon, and nutmeg. Brush evenly on the flesh and roast until the surface is caramelized, about 8 to 10 minutes. Garnish whole roasted butternut squash with chopped pecans.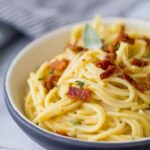 Print Recipe
Creamy Butternut Squash Pasta with Bacoon
Flavored with fresh sage and thyme, then garnished with salty bacon, this pasta recipe is luscious, healthy and absolutely addicting. The perfect quick dinner idea that screams fall comfort food!
Ingredients
3

strips

Bacon

2

tbsp

Butter

1

cup

Red Onion

diced

1

clove

Garlic

3

cups

Butternut Squash Cubes

1

cup

Chicken Stock

2

tbsp

Fresh Sage

chopped

2

tbsp

Fresh Thyme

chopped

1

cup

Milk (or Almond Milk)

12

oz

Spaghetti Noodles

Salt

to taste
Instructions
In a large skillet add the butter and red onion. Saute until slightly soft.

Next add in the garlic, saute for 30 seconds, stir and add the butternut squash, chicken stock, sage, and thyme. Stir and cover. Cook until the butternut squash is fork tender, about 8-10 minutes.

When the squash is tender, add the squash to a food processor along with the milk and salt to taste. Puree until smooth.

In the meantime heat a small skillet to medium high heat, add the diced bacon to the pan and saute until the bacon is crispy. When the bacon is done, place it on a paper towel lined plate to let the grease drain.

Bring a large pot of water to a boil. Add pasta, cook according to directions. Do not overcook.

Drain pasta and add butternut squash sauce to the pasta. Gently toss together and top with crispy bacon.