Black beans are a great source of fiber, protein and folate. They are a staple food in Central and South America.
One cup (172 grams) of cooked black beans contains roughly:
Calories: 227
Protein: 15.2 grams
Fiber: 15 grams
Folate (vitamin B9): 64% of the RDI
Manganese: 38% of the RDI
Magnesium: 30% of the RDI
Thiamine (vitamin B1): 28% of the RDI
Iron: 20% of the RDI
Black beans may also help reduce the spike in blood sugar that occurs after eating a meal, which may help reduce the risk of diabetes and weight gain.
This beneficial effect is because black beans have a lower glycemic index compared to many other high-carbohydrate foods. This means they cause a smaller rise in blood sugar after a meal.
A couple of studies have shown that if people eat black beans with rice, the beans can reduce this rise in blood sugar compared to when people eat rice alone. Black beans also cause a lower blood sugar rise than bread.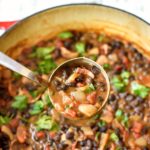 Print Recipe
Black Bean Soup
This hearty and delicious soup can be made with dried cooked beans or canned beans.
Ingredients
10

slices

bacon

finely chopped

2

medium

onions

diced

1

tbsp

minced garlic

1

can

chicken broth

14 1/2 ounce

1

can

chopped tomatoes

14 1/2 ounce

2

tbsp

ketchup

2

tsp

Worchestershire sauce

1

tbsp

chili powder

4

cans

black beans

drained but not rinsed

salt & pepper

to taste

1

bunch

cilantro

removed from stems and coarsely chopped

Juice of 1/2 lime

Sour cream

for garnish

Grated cheddar

for garnish
Instructions
Put bacon into a large heavy saucepan over medium heat and cook to desired doneness.

Add onions to the pan and cook until they start to turn translucent. Stir in the garlic and cook until fragrant.

Add the broth, tomatoes, ketchup, Worchestershire and chili powder. Stir in the beans, turn the heat up to high and bring to a boil.

Turn the heat down low enough for the soup to simmer gently. Cook for 10 minutes then season with salt and pepper.

Garnish with sour cream or cheddar, cheddar cheese and cilantro if desired.
Notes
How to prepare dried beans.
There are 2 methods for soaking beans:
QUICK SOAK:
Add 10 cups of water to a large pot. Add one pound of dry beans and bring to a boil. Cook for 2 – 3 minutes. Remove the pot from the heat, let the beans soak for at least 1 hour.
OVERNIGHT SOAK:
Place beans in a large container. For each pound of beans add 10 cups of cold water. Cover and refrigerate the container 8 hours or overnight.  Drain and rinse the beans with fresh cold water.
COOKING THE BEANS:
Place the beans in a large pot, cover with fresh water and bring to a boil. Reduce the heat, cover and simmer gently until beans are tender but firm.  Most beans cook in 45 minutes to 2 hours. Check occasionally while they cook to see if you need to add more water to the pot. After the beans are tender, drain them.
STORING COOKED BEANS:
Refrigerate the cooked beans in shallow pans if you're using them immediately. Freeze beans within 4 days after cooking them.